I decided to do the Sunday Social this week since I haven't written much on here lately.
The rules are simple.
1. Grab the button from
here
2. Write your post
3. Link up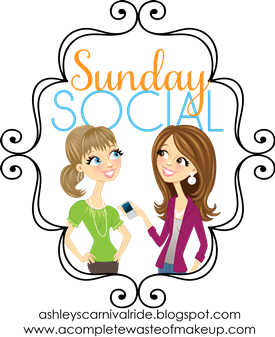 1. Name 4 jobs you've had in your life.
Receptionist, Crew Leader, Cashier, Call Center Rep
2. Name 4 movies you would watch over and over.
Bruce Almighty, Sweet Home Alabama, Twilight (any), Harry Potter
3. Name 4 places you have lived.
New Brunwick, Nova Scotia, Alberta, British Columbia (Provinces)
4. Name 4 of your favorite foods.
Spaghetti with pickles, Cereal, Toast, Candy
5. Name 4 things you always carry with you.
Blackberry, Keys, Glasses, Purse
6. Name 4 places you have been on vacation.
Las Vegas, California (Disney/Universal), Orlando (Disney/Univ/Seaworld/Discovery Cove), PEI
We are starting our holiday questions!!
1. What is your favorite holiday season tradition?
2. Do you have a certain holiday movie you watch more than others? If so what is it?
3. Show us your favorite decoration or pinterest decoration you wish you could have
4. What is your favorite holiday song?
5. What is your favorite holiday dessert?
6. What is on your wish list this year?